About Us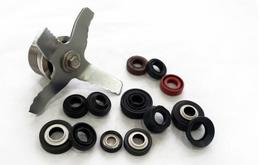 FuYee Oil Seal Industrial Co., Ltd. launched into oil seal business since 1986. A specialist in premium oil seal production which is under the principle of making high quality product. We had acquired considerable experience in the production of all our products during these years. In the meanwhile we also had established good reputation for high quality and performance.

Through heavy investment in product development and close cooperate with our customers, we apply strict quality control procedures to the products under ISO 9001 and sales network over 20 countries. Now, we have the sufficient experience to offer excellent and competitive solutions to our customer.

FYC is our trademark. It means that we promise to "Further Your Competency" .Our production and R&D are based on customer's need. The products can be used in automotive, motorcycle, common machine, construction machine and pneumatic/hydraulic machine. Of course, we also can produce special types by your request. If the design you require are not shown on our article. We also can produce it from technical drawing or sample.

It will be to your advantage to place your trust in FYC. Please feel free to contact with us and we will supply our best service immediately.
More
Featured Products